Herman Miller is all about flexible and intelligent design. A case in point is its decision to create the next evolution of Ratio, a market-leading height-adjustable design system.
Since 1905, the pioneering furniture brand has provided solutions that meet the needs of the 'modern' worker. Herman Miller creates not only new products that meet the demands of users at home and at work, but also reiterates existing products that already enhance people's lives.
Meet the next generation of Ratio, a workstation primed for change and testament to Herman Miller's three-pronged approach – researching the latest ergonomic science, listening to customers, and testing and prototyping until each product is just right.
Ratio epitomises this process. Returning as Herman Miller's answer to the new normal, Ratio is now more agile than before, offering users more choice.
Available in nine distinctive colourways that can be used on their own or mixed and matched, Ratio is all about individuality. With monotone and dual tone leg options now available, users also have an impressive 41 colour combinations.
Ratio is a product that encourages the power of choice; even the process of creating offices can become a playful symphony of colour and personality.
And this was no accident. Herman Miller is now offering the same colour combinations and customisation options across a range of new collections.
Apply similar colours or boldly contrast the Cosm and Zeph task chair collections, the Byne Workstation System, as well as the OE1 Workspace Collection, to discover your desired style portfolio of modular, mobile tables and storage solutions.
Ratio simultaneously remains clean and colourful while encouraging user productivity and mood enhancement through its diverse palette of saturated or neutral finishes, frames and screens, pushing the envelope on 'conventional' office design.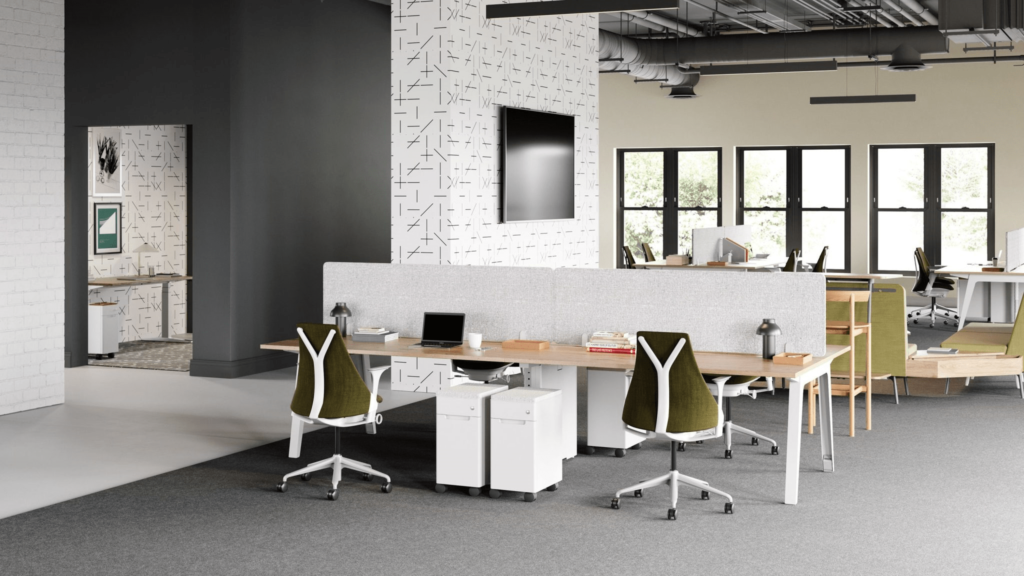 To give users even more flexibility, the newly refined Ratio also syncs with Ambit Workspace Solutions, Herman Miller's new collection of components and accessories. Thoughtful, scalable and comprehensive, Ambit is designed to easily integrate into Herman Miller's existing portfolio of sit-to-stand products.
Offering multiple configurations, Ambit aids people in creating customised spaces for privacy and focus work. Screens and vertical cable management work together purposefully to create a holistic workplace option with dimension and functionality.
With this in mind, Ambit features a host of work tools and accessories, enabling the user to store their personal items effectively and streamline their workspace in a way that suits their needs.
All of this is protected under Herman Miller's industry-leading 12-year warranty to promote sustainable and enduring furniture solutions
Enquire about our range of Ratio Workstations
Be part of our mailing list to access new product releases, latest trends, exclusive discounts and more!