In a world where the boundaries between work and personal life are becoming increasingly blurred, the importance of a well-designed office space is crucial. Not only does it enhance productivity, but it also promotes employee well-being and comfort. With the rise of flexible and collaborative work environments, it is more important than ever to have a versatile office design that caters to the needs of your workforce. At WorkArena, operating successfully for 24+ years, we understand the significance of a well designed office. In this article, we will show you the recipe for achieving a perfect balance between efficient, collaborative and comfortable workspaces.
Selecting the Right Office Design Setting
When it comes to office design, it is important to create a space that promotes productivity and comfort. This means considering elements such as workstations, seating, and collaboration areas; some of these settings could include:
Collaborative spaces
Foster teamwork and enable employees to brainstorm and share ideas effectively. These spaces are designed to facilitate communication and creativity, leading to better collaboration and productivity.
Open plan offices
Which have become increasingly popular in recent years, offer flexibility and encourage social interaction. However, they may also lead to distractions and decreased productivity if not designed effectively.
Focused workspaces
Provide a quiet and private environment for employees to concentrate on individual tasks and projects. These spaces are ideal for tasks that require deep focus.
The OE1 range from Herman Miller, is optimized for agile workspaces. With its versatile design and easy mobility, it allows companies to experiment with different layouts and adapt to changing needs seamlessly.
Prioritize Comfort & Wellbeing in your Workplace Design
When it comes to selecting the right office setup, there are a few key factors to consider.
One of the most important aspects of a well designed office is the
workstation
. This is where employees spend the majority of their working hours, so it's important to choose the right one. Some solutions that can help you achieve this goal are the
Atlas Office Landscape
and the
Ratio Workstations
, these game-changing solutions combines height-adjustability and collaborative working in a functional sleek design which allow for easy transitions between standing and sitting. They count with customisable features and easy transitions between individual and group work, keeping employees comfortable and healthy throughout the day promoting a productive and efficient environment.
Another aspect to consider in office design is selecting the right desk chair. Sitting for prolonged periods can lead to health issues, which is why investing in ergonomic furniture is crucial. Some of the top of the range ergonomic chairs include the Aeron Remastered, Mirra 2, and Sayl chair, that are designed to support different body types and promote good posture.
Additionally consider incorporate natural elements – Natural light, plants, and outdoor views can have a positive impact on employee well-being and productivity, Harvard studies found that working in a green environment increased cognition by a massive 26%, reduced sick days incidences by 30%, and increased sleep quality by 6%, a great reason to consider adding leafy plants to your workplace.
Additionally a research study published by the Ergonomics International Journal revealed that workers in daylight office environments reported a 51% drop in the incidence of eyestrain, a 63% drop in the incidence of headaches and a 56% reduction in drowsiness.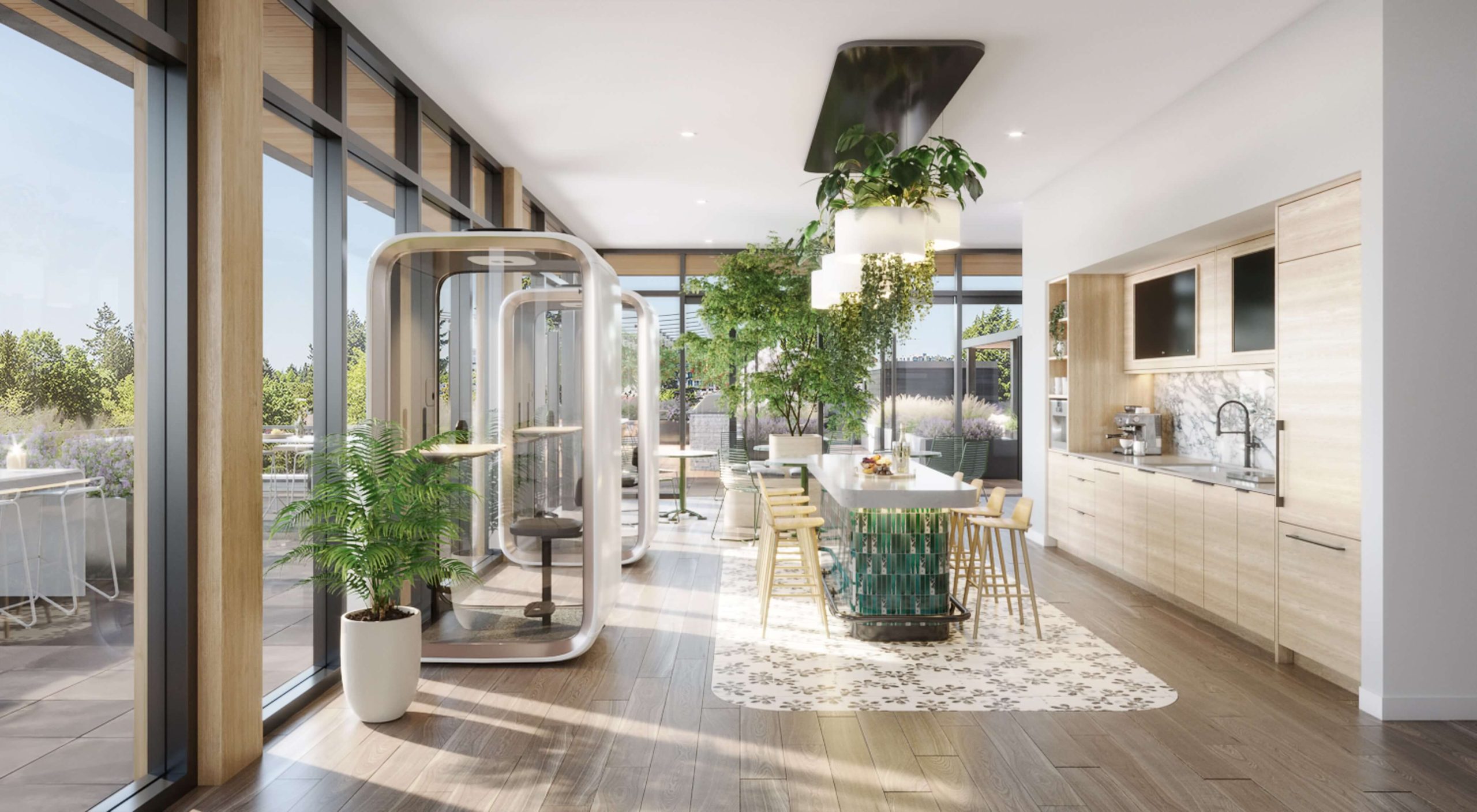 Design an Efficient, Private & Collaborative Office Space
In today's modern workplaces, it is essential to have a balance between private and collaborative spaces. Private office spaces in open plan environments also have their own benefits. These spaces provide a link between privacy and social interaction, making them ideal for businesses that value flexible workspaces. Framery
office pods
offer a private and quiet area for individual work or meetings. These pods are soundproof and can be placed in various locations, thanks to their portability and variety of sizes to fit any office space.
Comfort and versatility should also be a key consideration when designing collaborative workspaces. It is important for these work areas to be designed with teamwork in mind. They should encourage and promote collaboration, getting people involved and engaged in shared projects. This can be achieved through a layout that supports open communication and teamwork, with designated areas for brainstorming and group discussions. It is important for these spaces to be spacious enough to accommodate multiple people, while still providing enough team space.
When it comes to office design, it is important to consider ergonomics and collaboration. At WorkArena, our experienced team can provide you with customized solutions that meet your requirements. We believe that a well-designed office space is the key to a successful and thriving business. Contact us and let us help you create a workspace that not only enhances productivity, but also promotes a positive work culture with our office space solutions.
In a world where the boundaries between work and personal life are becoming increasingly blurred, the importance of a well-designed office space is crucial to promote employee well-being and comfort.
Be part of our mailing list to access new product releases, latest trends, exclusive discounts and more!